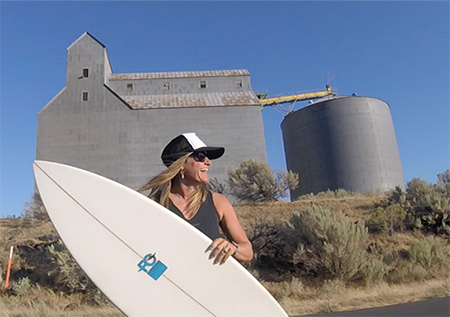 Tonia Farman - Washington St.
Tonia started Cascade in 2007 after conducting kite nights for girls around the Gorge to get her girlfriends to kite. Once certified, she bought a jet ski to teach with and the rest is history. She continues to lead CKB built on safety, progression and fun through personal instruction. Tonia is also known for founding and running Kiteboard 4 Cancer, inspiring people to find empowerment & life-renewal through kiteboarding.
Blaine is like your first cup of great coffee in the morning - invigorating! Having started with Cascade in 2011 after taking the IKO Instructor Course with Tonia and her team, he continues to charm and has been back every summer since. Blaine is a lead instructor / teacher with World Class Academy in the winters.
Alex Thon - Washington St.
Outside of kiteboard instruction, Alex is a knowledge-seeking enthusiast who has found the importance of being as multi-dimensional as possible. He carries out his passion through international travel and interacting with different perspectives. Alex is one of the lead instructors / teachers for World Class Academy where he coaches high school kids to be pro kiteboarders and good humans.
Katie Noblett - So. California
Don't let her roots fool you; Katie is a go-getter who loves the Pacific Northwest adventures in the mountains and the water. When she's not teaching kiting or booking our lessons, you can find her hiking, snowboarding, running or sharing the stoke on the water. Look for the crazy curly hair and a big smile and you'll find her!
Burgess Malarkey, Washington St.
After years of racing sailboats in the Gorge, Burgess picked up a kite and never put it down. When not instructing, he's either out on the water or on shore putting on more sunscreen, or a bigger hat. He used to wear a suit to work, now he wears a wetsuit, and couldn't be happier about it!
Sam is all Oregonian. Ask Sam about his corporate life before teaching kiteboarding - yes, he had one! You can find Sam at the Cascade Kiteboarding school, attending flight school or cooking up ribs - he grills up some mean ribs!
Don't let Will's presence scare you. His cool, laid back instruction style is soothing yet on point. His surfboard skills with a kite are top-notch when you get to that level. In the meantime, chill out and let Will progress your kiting with patience and finesse.
Tim's favorite things besides kiteboarding are Downhill skiing, hiking, rock climbing, and water skiing! Before working for Cascade, Tim was teaching kiteboarding in South Padre Island, Texas - a world away from the Gorge! In the winters, he teaches skiing in Minnesota - did you know there were mountains in Minnesota? Tim loves sharing his passion of kiteboarding and skiing through teaching!
Austria - A natural teacher, Nadja was in the Alpine in Austria teaching snowboarding and skiing at the age of 15. During the summers she was on the water everyday wakeboarding until 2009 when she learned to kite. Then Nadja was on the water everyday either teaching kiting or kiting or both!
Nadja has several fitness and health certifications, which equips her well to teach individuals concerned with minor injuries, health concerns or back issues. In case the wind doesn't blow you'll most likely find her tumbling upside-down on a pole or silk. Her tumbling skills translate well to the water as well.
Luke is a goofy, lighthearted southern boy who loves to go out on a sweet sweet dance with his foil. Well, this pic is him just dancing with his kite. Great with kids and beginners, Luke's patience and encouraging instruction will get you riding.
Tiny girl with a large personality. She lives in La Ventana for the winters but used to work in software and hardware technology sales. She lives and travels in a motorhome with her two dogs, cat, and Luke. When she isn't teaching, you can find her shredding the waves with her surfboard, hiking with her dogs, or drinking a good pilsner. Loves to teach beginners and welcome them to kiteboarding!
Alec has a passion for learning and sharing knowledge from his ongoing collection of experiences. Never in the same place for more than a year, Alec has been keeping life interesting with travel, cultural immersion, and outdoor sports. Teaching has been a pillar to the foundation of his life for many years as Alec has taught a variety of things: a gymnastics instructor for kids, a volunteer primary school teacher for orphans in Uganda, a wakeboarding coach and team officer for a collegiate wakeboard team, snowboard instructor, and now kiting. Outside of teaching you most likely find Alec mountain biking in Post Canyon.